Minnesota Residential Landscaping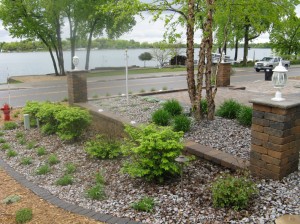 A big part of the American Dream is to have your own yard. A place where you barbeque, watch the kids play, entertain friends, or just sit and relax. Your yard should be a place of beauty, tranquility and utility. That is where the Lawn Care Company come in.
Whether you want to turn your yard into a showplace that "wows" your friends and increases your home's curb appeal and value, or just want to get out from under all the lawn mowing, hose moving and fertilizing so you can sit and enjoy, we can help you.
The landscape designers/architects at Lawn Care Outdoor have the skills, knowledge and experience you need to turn your yard into a thing of beauty. They can create and install a design that almost cares for itself, or one that requires you to get your hands in the soil and care for it yourself. The choice is up to you!
Our Landscaping Services
Mulch or rock
Plants and trees
Sod and/or seeding
Edging (including concrete)
Boulder & Block Retaining Walls
Underground sprinkling systems
Water falls and ponds
Outdoor accent lighting
Fencing for decoration, security or privacy
Stone or concrete paths
Patios
Grading and Erosion Control
Tree Trimming
All of our landscape, garden and lawn services are custom designed to fit your taste and lifestyle. If you do not see something listed above just give us a call and ask!
We offer free estimates and are anxious to show you what we can do and how affordable it is. Contact us today!